Having work done on your home can be a very intense and personal experience. Essentially, you are allowing someone access to your most valuable asset, trusting them that they will not only take care of that asset, but actually improve it for you as well. Therefore, it's no wonder that one of the most stressful parts of any home improvement is the hiring process of the contractor. Hiring the right person for the job can make your home improvements smooth, fast, and relatively painless. Hiring the wrong person, however, could spell disaster for you and your home. That's why it's so important to thoroughly vet your contractor before you begin any project.
Questions You Should Be Asking
When you start the search for a contractor or building firm to head up your home improvement project, you're probably thinking along a few lines. Most homeowners start their search concerned with a few different things:
Cost of the project
Timeline
Willingness of a contractor to take on the job
And while these are all things that should absolutely be factored into your final decision, they are far from the only things you should be considering.
Your first step when interviewing any new contractor is to find out more about them and their credentials. Ask to see a copy of their contractor's license. Get the full name and address of their business, and find out how long they've been there. Ideally, you want a contractor that has roots in your community, as well as a proven track record you can check up on. This means following up with your town or state licensing board to make sure their license is in good standing, and with the Better Business Bureau to ensure that they have no complaints registered against them.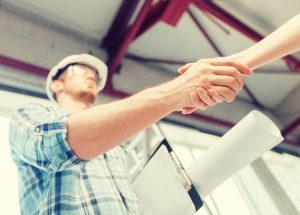 Once you've taken care of these first steps, it's time to dig a little deeper. There have been some recent fraudulent activities uncovered by the FBI in which a conman was posing as a licensed contractor. Diligent homeowners who followed up on licensing were still taken in because they didn't follow up any further. A few extra questions on the part of the homeowner, and a few more follow up phone calls may have been enough to save them from losing thousands of dollars.
To this end, ask the contractor for at least three recent, local references that you can follow up with to ensure that previous clients were satisfied with the job. You should also ask for some suppliers' references as well. Calling suppliers is a great way of ensuring that the contractor is in good standing, and is unlikely to leave you with a lien on your home for unpaid bills.
Finally, make sure you ask to see some recent examples of their work. A portfolio is a great way of finding out if the contractor's style and craftsmanship match what it is that you're looking for in your home.
Before You Sign
Before you sign a contract with your new contractor, make sure you take the time to read it, understand it, and follow up with any questions you may have. A good contract should list approximate start and end dates, as well as the scope of the work, payment schedule, and anything else that you and the contractor have discussed as being relevant to this particular job. In some cases, you may also want to ask for a lien release if you have concerns that you do not feel have been addressed. The bottom line is that you should feel absolutely comfortable with the person who will be working on your home. If you don't trust them, have a bad feeling about them, or their information isn't matching up with what they claim, you're better off not signing and going with someone else to do the job.
Feel Comfortable with Your Choice
At the end of the day, you want to ensure that you're comfortable with the contractor you choose to work on your home. After all, you don't want to trust your most important asset to just anyone. Do your due diligence and follow up on every contractor you interview to find the best person possible for the job.
When you're ready to get started, be sure to contact Bianco Renovations where our expert design/build team will work with you to ensure that you feel confident and comfortable with your choices. Our client and success oriented team has many years of experience that we bring to every job we take on. Call today for a free in-home consultation to get started.